What is the best form of government?
What is the proper relationship between the individual and the state?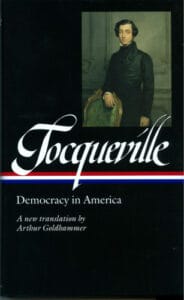 What is Justice?
Alexis de Tocqueville's Democracy in America allows students to grapple with complexities and paradoxes associated with democracy and democratic government. Furthermore, Democracy in America allows students to explore how democracy has changed in the United States over time. Tocqueville's purpose for writing Democracy in America is to examine why democracy worked in the United States by the early-nineteenth century, while previous attempts in France failed. Tocqueville's purpose will require students to examine how certain social, economic, and political conditions in individual nations can influence the success and failure of certain forms of government.
Discover the Text »