Where am I going? And what difference does it make?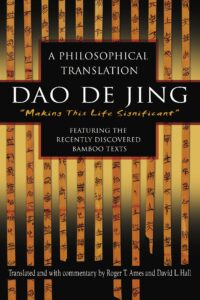 What is our relationship to the non-human world?
The Dao De Jing is attributed to Laozi, translated as "The Old Master," a possibly fictitious legendary contemporary of Confucius. As such, the Dao De Jing is a response to Confucianism and its emphasis on social relations grounded in the family to create a harmonious cosmos. Daoism criticizes Confucianism here by claiming that the exclusive focus on proper social relations is an attempt to fix and concretize dao in a way that will ultimately backfire and miss the mark. While both Confucianism and Daoism emphasize wuwei (non-action), Daoism seems to expand the sage's realm of focus beyond the merely societal to include nature and the entire cosmos. Later, Buddhism would combine its unique features with Daoism to produce Zen. This text is fascinating to anyone interested in texts as a way of being in the world.
Discover the Text »